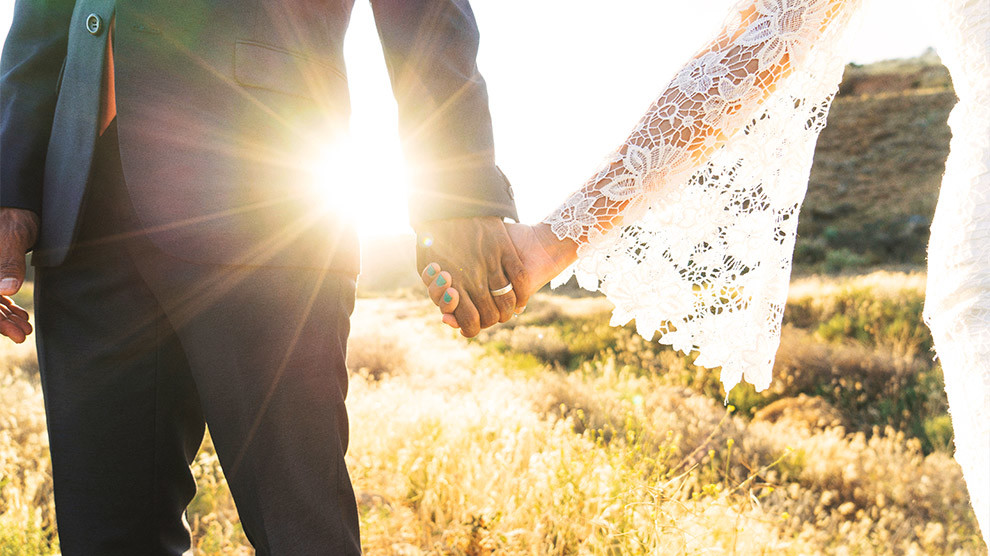 There's a reason 750 million people watched Prince Charles and Princess Diana get married back in 1981. It's the same reason they watched Prince William and Kate Middleton's wedding 30 years later.
We all love a good fairy tale that ends in "happily ever after."
But is that kind of marriage realistic?
God created marriage to be a beautiful, lifelong bond. He designed it to be one of the greatest experiences we have here on earth. The danger comes when we expect it to measure up to storybook standards. And when it starts to fall flat, we second guess ourselves—or feel like our marriage might crumble.
Here are three things to keep in mind when you start to worry that your marriage isn't shaping up to be the fairy tale you hoped it would be.
1. Don't base your marriage off someone else's public fairy tale.
We don't know William and Kate, but we'd like to think their marriage is filled with give and take. Sure, their wedding was beautiful. But it wasn't the final scene of the story—it was the beginning of a lifetime of hard work.
Fairy tales make marriage look easy. They tell a romantic love story that ends in the wedding—but what about after that? You don't see all the times the couple fights over who should take out the trash. You don't see when they have to sacrifice and compromise for the good of their spouse.
Nope, everything just comes together without any effort in Happily Ever After Land. You've got romance, baby! But you really need love to keep everything afloat.
That's why it's so important to stop comparing our own marriages to these stories—or to the highlight reels that people share on social media. Comparison is a thief of joy, and it's usually based on a façade. After all, you can't see behind the scenes.
Christ calls us to avoid being shaped by the culture, and that includes its portrayal of marriage: "Do not conform to the pattern of this world, but be transformed by the renewing of your mind. Then you will be able to test and approve what God's will is—his good, pleasing and perfect will" (Romans 2:12 NIV).
2. Things go better when you work together.
Remember that Bible verse that says two become one flesh (Genesis 2:24)? There's no question you and your spouse should be on the same team.
But things get messy really fast when you bring two people together. It doesn't take long for newlyweds to have that first argument. And the longer they're married, and the more they trust their spouse, the more comfortable they get—for better or worse.
So what does it look like when spouses live out their marriage on the same team?
Related: Learn Practical Ways to Communicate with Your Spouse About Money. Order Financial Peace University Today!
In Ephesians 5:21, Paul advises married couples to, "submit to one another out of reverence for Christ."
In other words, honor the other person. Put their interests before yours. Join your lives across the board—from your bank accounts to your dreams for the future.
Taking another person's wants and needs into consideration shifts your priorities. And that's an awesome responsibility! Sure, it takes hard work. But ask any couple who has been married for 50 or 60 years and they'll probably tell you it's been the most rewarding experience of their lives. A great marriage doesn't happen accidentally. It takes effort, intentionality, and a whole lot of prayer!
3. Celebrate your peanut butter and jellyness.
Okay, so you're on the same team. But that doesn't mean you have to be the same. Actually, that would make marriage pointless!
Larry Burkett used to say that if two people exactly alike get married, one of them is unnecessary. The goal is to be complementary: Totally different, but better together.
The fairy tale myth says that spouses should be more alike than different. So we try to make our spouse more like us. We want them to like the things we like, do the things we do, act the way we act.
But marriage is better when spouses honor each other's differences. Trying to change someone doesn't usually end well. Each person brings a unique set of strengths and weaknesses to their marriage. One makes up for what the other lacks. So don't try to change your spouse. Honor them the way God made them.
Whether you're married, engaged or just hope to be married someday, remember "happily ever after" makes a great movie ending—but it's not realistic. A real, godly marriage is way more interesting. After all, have you ever seen a Disney prince and princess go through all of life's adventures and grow old together? Neither have we.