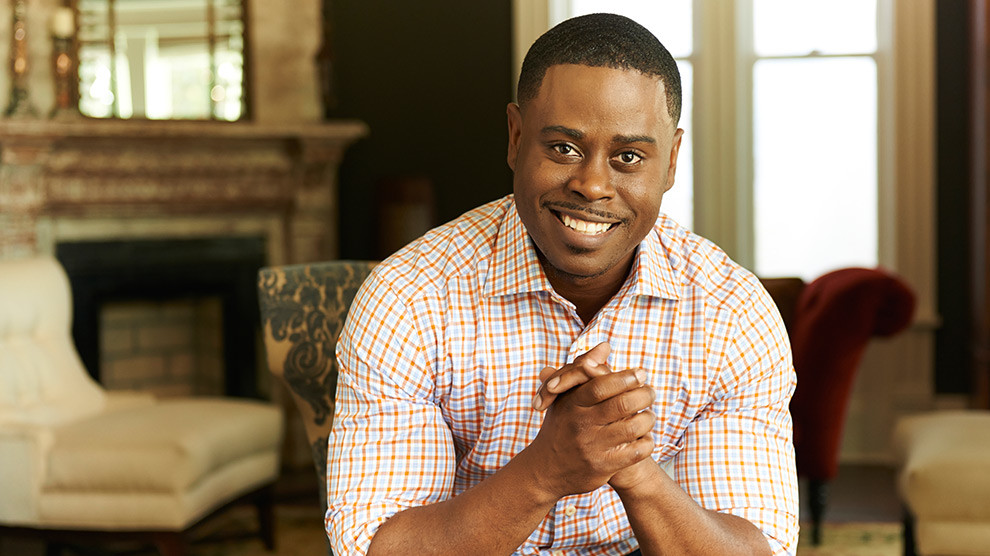 Anthony ONeal joined the Ramsey Solutions team after a successful stint as an associate pastor over student ministry in Florida. But there's really more to his story. Recently, Anthony visited Chris Brown's True Stewardship to talk about his past, his present and how the two are connected.
Here's a taste of how their conversation went.
Chris: You speak to students all over the country, but what did your life look like in high school.
Anthony: By the time I was 18, I was ready to go. I graduated at 7:30 p.m. on a Thursday and was on the road to college in California by 2 a.m. on Friday. I just wanted to be on my own.
But I made some bad decisions. Within six months, I had $15,000 in credit card debt and another $10,000 in debt for some furniture I got for my apartment. I wasn't even 19, but I had $25,000 in debt. Plus, I got kicked out of college and lost my job. I'd hit rock bottom.
Related: Listen to the Full Conversation Between Chris and Anthony!
Chris: So, what did rock bottom look like for you?
Anthony: You need to understand that my biological parents never married. My mom and her husband live in California, while my dad and his wife live in North Carolina. So, I've got two loving families.
Up to that point, I'd always told my parents that I was a grown man, and my dad reminded me of that when I told him I had no school, no job and a lot of debt. He basically said that since I was grown man, I could find a way to fix it. So I went back to the apartment I'd been evicted from and put all my clothes in the back of my car. Then, I parked at a Walmart near a light because I was scared of the dark.
So, for a season, I lived in the back of my car. Not because of my parents. Not because I had to. But because of the decisions I had made. My father actually knew where I was and what I was doing. When he let me move back home, he told me it was going to be all right and handed me a Dave Ramsey budget form. I didn't know who Dave Ramsey was or what a budget form was, but that was the first step in getting my life back on track.
Related: Create Your Holiday Budget in Less Than 10 Minutes with EveryDollar
Chris: So, now you're using that experience to minister to students?
Anthony: Absolutely. I'm channeling the hurt from that season into helping young people. I'm tired of seeing young people make wrong decisions just because they don't know how to make the right decisions. I know all this stuff now and have been there, so I can go into schools and help students understand.
Chris: When you're on the road, what are teens and young adults sharing with you?
Anthony: They're really struggling with self-identity. They're struggling with following the norm. They may say they're different, but they're really following the path of everyone else.
I remember a girl gave me hug after one talk and said, "Thank you." I really didn't know why until I got a long message on Instagram from her later. She was on the verge of suicide, but my talk reminded her that she needed to take her life seriously and make better decisions instead of just following her friends. She had been trying so hard to be them that she never realized who she was. She changed her mind because she understood that it really is that serious.
Chris: "It's That Serious" has become your anthem. How did that originate?
Anthony: I was at the gym one morning and saw this 65-year-old woman just going hard on the elliptical machine. When she got done, I went over to ask her why she worked so hard.
She told me that a year earlier, she weighed 322 pounds and was on the verge of a heart attack. Now, she was down to 212 pounds. She had lost more than 100 pounds! If she hadn't taken life seriously, she could have died. Now, she could hold her baby granddaughter and experience that new life.
"I know people think I'm crazy," she said. "But, to me, my life is that serious!"
That just hit me because all kinds of people are on the verge of heart attacks with their finances or their marriages. Kids are on the verge of heart attacks with their grades and with making the right decisions. So, that's become my anthem.
Life really is that serious because the decisions you make today affect your tomorrow.