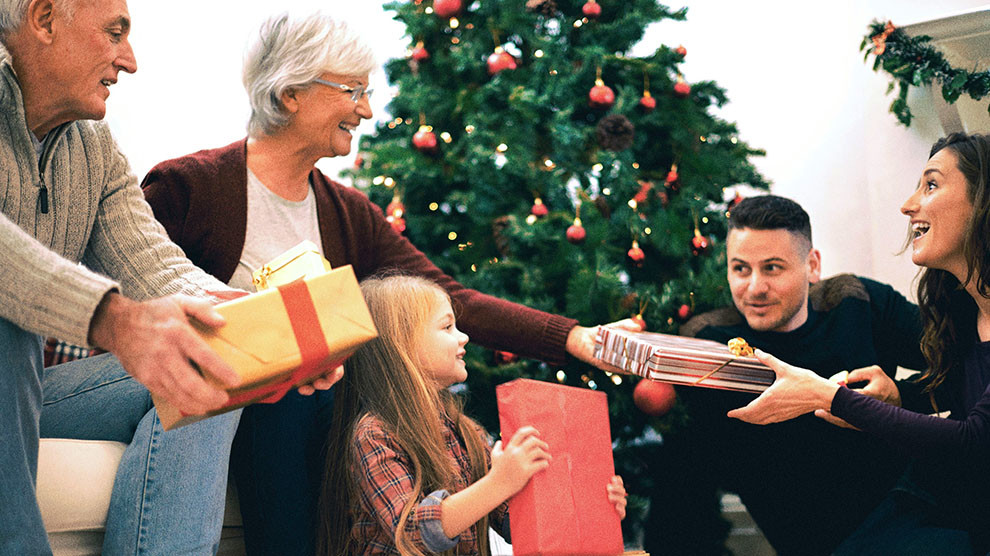 Christmastime in the movies is the best: It's full of twinkling lights and glittery bows, giggling children, church choirs singing by candlelight, and happy relatives with arms outstretched or full of gifts.
Everyone is joyful, and the Scroogiest of Scrooges becomes generous. Hey, even the McCallisters and the Griswolds—two of the most dysfunctional families in all of Christmas movie history—ended their stories with the message that a family can overcome pretty much anything with love and forgiveness (cue the sentimental music).
But we don't live on a movie set. Problems, especially the kind around family, don't always work themselves out just because it's Christmas.
If the thought of spending time with your family during the holidays makes you anxious, then you might have lost hope that you'll ever see a resolution. But the Bible reminds us love and forgiveness can soften hard hearts and mend broken relationships. And as a follower of Christ, you can help start that process—and rejoice in hope!
Before you head home for the holidays this year, try these four things and see if your Thanksgiving and Christmas aren't just a little bit brighter.
1. Shift Your Mindset
Start by looking at your relationships through God's eyes. God loves everyone else just as much as He loves you—even your crazy family. That's why we're told to "regard no one from a worldly point of view," but from an eternal one (2 Corinthians 5:16 NIV). We're called to treat our family as God does—with love, gentleness and forgiveness—whether they treat us the same or not.
He calls us to steward all the relationships in our life for His glory. Romans 12:18 (NIV) tells us, "If it is possible, as far as it depends on you, live at peace with everyone." So if family drama is on full display at Thanksgiving and Christmas, then shine a light on God—because that's when His presence is needed most!
2. Set Appropriate Expectations
Colossians 4:6 (NIV) tells us, "Let your conversation be always full of grace, seasoned with salt, so that you may know how to answer everyone."
That's helpful advice—especially when around family during the holidays. You have to enter into every situation knowing how you'll respond to family regardless of what happens. Be prepared for their best . . . and their worst.
Remember this: You can't control your family's behavior, but you can control how you respond. So decide now your behavior won't waver. Besides, you're accountable to God for your own actions, not anyone else's.
3. Assume the Best
Decide before you arrive to Thanksgiving or Christmas dinner you're going to have a good attitude and assume the best. Will it be a bumpy few hours? Maybe. But is it possible your family members are trying their best? Probably.
If they say something that bothers you, it's probably not personal. Chances are they just don't know any better. Or they might have some deep pain in their past causing them to behave a certain way. Knowing that might help you empathize with them. After all, we've all felt the sting of something painful in our lives, and that can help you start to bridge your differences.
So give them the benefit of the doubt and embrace an attitude of grace.
4. Pray About It
The best thing you can do for your family is to pray. Ask God to give you words to respond to your family in love. Ask God to send you covered in His armor (Ephesians 6:10–18) so that you're protected by truth, righteousness, the gospel of peace, faith, salvation, and the Holy Spirit. Ask the Holy Spirit for strength, compassion and patience. Ask Him to help you represent Christ, no matter what happens.
You can also ask God to give you discernment about whether to confront an issue or to ignore it, to speak up or stay silent. Ask Him for self-control and the wisdom to speak only words that uplift and point to Christ.

As Proverbs 16:7 (NKJV) says, "When a man's ways please the Lord, He makes even his enemies to be at peace with him."
Remember, God loves your family just as much as He loves you, and He's created them in His image too. They are worthy of love. When you embrace that, you're demonstrating the depth of God's love and forgiveness—which He gives freely even though we don't deserve it. And if there's anything that can mend broken relationships, it's love and forgiveness.
Maybe a Christmas full of happy relatives with arms outstretched isn't so farfetched. Maybe this year, if you start with yourself, it can be your reality—sentimental music and all.