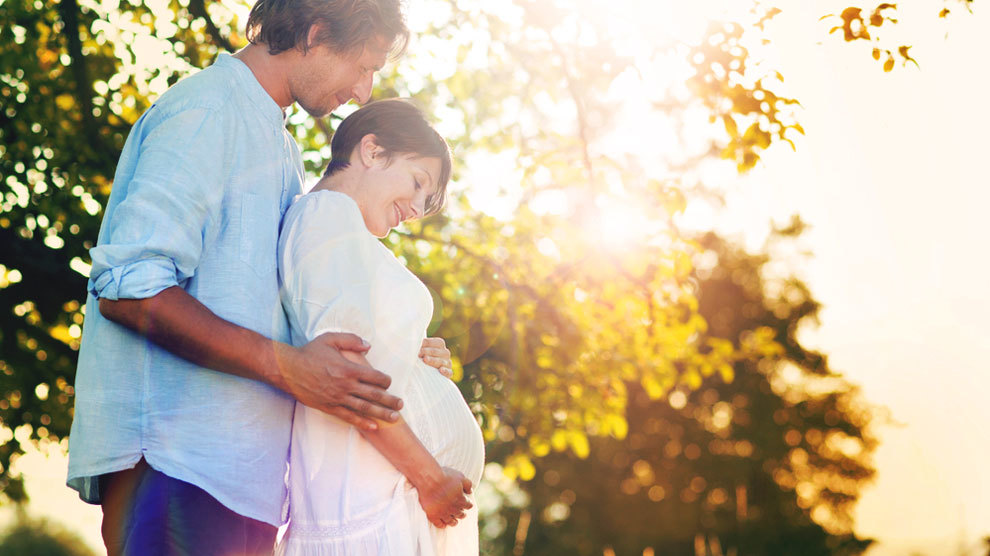 Long before the bump makes your news obvious, you and your honey will stare at a precious secret: the positive sign. You might gasp, laugh, jump up and down, or even cry. After all, you're having a baby!
You also might feel blown away by this huge God-given responsibility. It really is a big deal, and that's why the Bible is filled with advice—and warnings—about parenting and raising kids God's ways. Phrases like "train up a child in the way he should go" (Proverbs 22:6) echo in our brains and remind us that God has placed these little ones in our lives for a purpose—His purpose.
Related: Teach Your Kids God's Ways of Handling Money
So, as you progress through the trimesters, don't be surprised if your emotions ride the rollercoaster from overjoyed to overwhelmed. You'll have so many things to learn and so many decisions to make. And while we can't help you with every step of the journey, we do want to help you keep your financial fears at bay. With that in mind, we're offering a few tips for bringing home the baby without breaking the bank.
Answer Some Questions
Once you learn about your new addition, all you'll want to do is dream. Are we having a boy or a girl? What will he look like? Will she have your eyes and my smile? Will the baby's hair be curly or straight?
Sooner than later, though, you'll need to float down from your dreams and land on the ground long enough to face your financial reality. You can do this by asking three simple questions.
1. Are we living on a budget? In Luke 14, Jesus told a story about a man who wanted to build a tower. It was a huge job. But before he laid his first brick, he checked out his budget.
You have an even bigger responsibility in front of you. If you aren't consistently telling your money what to do before every month begins, now is the perfect time to start. Financial expert Dave Ramsey says it takes about three months to get a handle on budgeting, so you've got plenty of time to practice. Trust us. You'll want to make living on a budget a seamless process before sleepless nights set in.
Related: How to Make a Zero-Based Budget
2. How will our take-home pay change once the baby is born? Will you both continue working? If so, will you need to pay for day care or will a relative be able to watch your little one for free? Will one of you stay home full time? How will that affect your monthly budget?
Decide together what's right for your family and do the math to see how your decision will impact your finances. Then, live like the changes are effective today. That way, the right spending habits will be a normal part of your life when the baby comes home.
3. Do you have any debt that you're paying off? Talk about where you're at in the process and set a plan in motion for how you'll continue dumping your debt despite upcoming changes to your income.
Related: The Myth of Using Debt as a Tool
If you're paying off debt, we've got a crazy suggestion for you: stop. Continue to make your minimum payments, but save all the extra money you can for potential emergencies throughout pregnancy or at birth. As soon as baby and mom are declared healthy, use the money you saved to pay off a big chunk of your debt and start moving forward again.
Set Aside Money for Mom
The aforementioned bump is coming. That means your appetite's getting bigger and your clothes are getting smaller. It's inevitable.
Around here we budget for everything. Go ahead and adjust for higher grocery bills and maternity clothes. You can still be smart by shopping at discount stores, buying consignment and borrowing from friends. The evidence of your bundle is a blessing, so embrace it!
Begin to Buy for Baby
Admit it: You're itching to buy something for your baby. You might even be tempted to buy everything. That's just love manifesting itself through tiny onesies and little bitty shoes and oh-my-goodness—just buy it all! You have our permission.
Okay, not really. It sure can feel that way, though. Baby stuff is so cute and seems totally necessary. Why wouldn't you spend your life savings decking out the nursery with all kinds of baby luxuries?
Thankfully you don't need to spend tons of money to express love. Your touch and soothing voice are almost always enough. Of course, you'll need to spend some money, so here's our actual advice:
1. Pay with cash. If you can't buy it without swiping a credit card, don't buy it. Putting those purchases on hold for a while doesn't make you a lousy parent-to-be. It means you're mature—an important quality for bringing up a baby.
2. Cut out non-necessities. Do you really need the latest and greatest baby gadgetry? Or will timeless products and the basics suffice? Talk regularly with your spouse about where things fall on the "needs versus wants" list before making a purchase.
3. Talk to an experienced mom. First babies present so many options. Do you buy new or used items? Brand name or generic? Will you nurse or formula feed? Use cloth or disposable diapers? With some things you'll know the answer almost instinctively or be able to find it through research. For everything else, ask a mom who's been through this before. Perspective and experience go a long way.
This, moms and dads, is just the beginning. You're on the verge of so many great memories and adventures. The psalmist said that children are "like arrows in the hand of a warrior" (Psalm 127:4). To help them fly straight later in life, begin building a legacy of smart money decisions now.