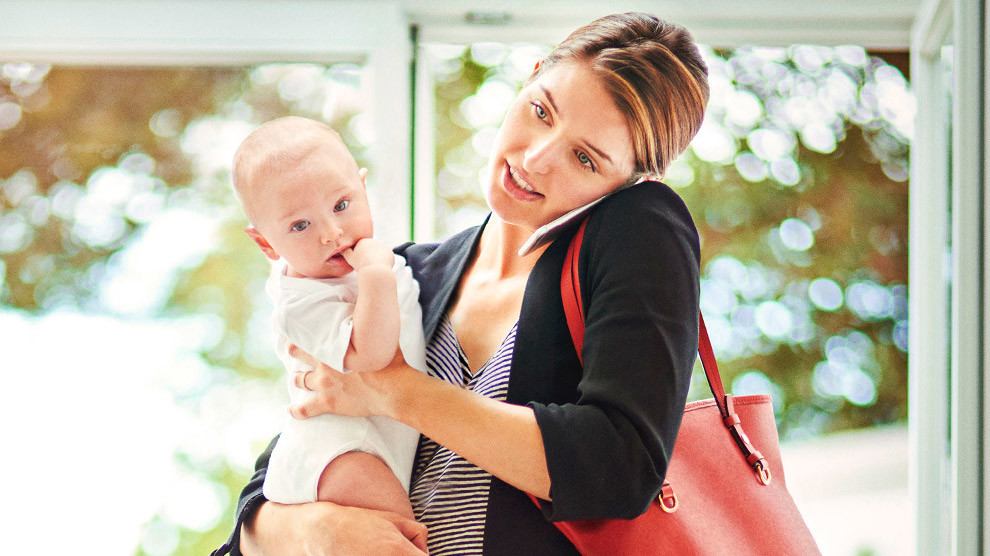 Human beings have a tendency to turn just about anything into a competitive sport—including how we choose to parent our kids. When you're pregnant, people ask if you're still working out, if you've gained weight, and what crib you bought. Once you give birth, people immediately want to know if your child is hitting his or her big milestones early.
And then, if you decide to go back to work, people say things like: "I just can't imagine being away from my baby all day long."
Comments like this cut to the bone if you're a working mom. And even though more and more children are growing up in homes with two working parents—68% of moms with kids under age 6 balance work and family—those remarks can still leave you feeling guilty and ashamed.
It's a nasty comparison game, and it isn't doing anyone any good.
If you've made the decision to go back to work after having children—or even if you didn't have much of a choice—understand this: You don't have to carry that shame around. You aren't the only one choosing to balance parenting and a job that either fulfills your calling or contributes to your household income. Moms everywhere are making the same call.
And guess what? Their kids are living to tell the tale.
So quit beating yourself up and carrying guilt like it's an accessory. You not only have permission to be a working mom, but you also have permission to do these four things.
1. You have permission to make mistakes.
If you miss one of your daughter's soccer games, don't get a chance to check your son's math homework, or don't have time to pack an organic, all-natural lunch, it will be okay. Parenting is messy. Allow yourself some grace and recognize that your mistakes don't define who you are—as an individual or a mom. Your kids will forgive you. And even better, when we make mistakes, we model to our children that it's okay to mess up sometimes. That will serve them well in the future.
2. You have permission to make time for yourself.
You're juggling a lot as a working mom. And unfortunately, that usually means you sacrifice time for yourself so that you can take care of everyone around you. Sometimes, that's self-sacrifice. Other times, it's unhealthy. If you go too long without quiet time—whether it's reading the Bible, going for a walk, or spending some one-on-one time with your husband—how much more quickly do you get agitated, stressed or tense? We can't be good stewards if we don't intentionally make time to relax and reset.
3. You have permission to say no.
How often do we agree to things just because we feel like we should? That just lands us with a pile of responsibilities that we don't have time for. It's no wonder we often feel stretched thin and stressed to the max. It's tough enough to balance working and raising a family without tossing in a bunch of extra to-dos. Don't be afraid to say no. You don't have to run the school bake sale or be the president of the PTO. No is a complete sentence—and it's one you have every right to use.
4. You have permission to ask for help.
As much as you want to be the superhero, you can't be everything to everyone all the time. If hiring a maid or a nanny will keep you from losing your mind, do it. There's no shame in asking for help. It allows you to be more present when you're home, which gives you more time to focus on your kids without worrying about catching up on laundry or meal planning for the week. And on top of that, it just might give you a chance to rest—which is important for you and for everyone around you!
Being a mom is hard enough without dragging around the burden of guilt. It's too heavy, and it isn't helping you be a better parent. You have permission to work outside the home, and you have permission to be content with that decision.
So make a point to stop apologizing, ditch the guilt, and embrace life as the superhero mom you are!