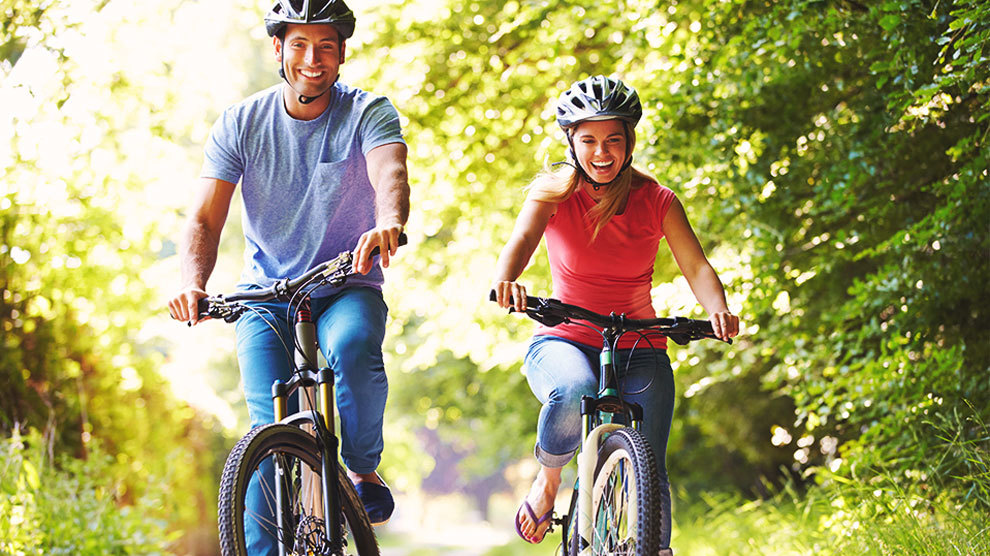 Guys know what it's like. Flowers: $45. Dinner: $60. Movie and popcorn: $30. A night with the girl who has captured your heart? Pricel—whoa, wait. How much?
Yeah, we know. Those dating games are fun expenditures at first, but they can become a hard hit to any wallet, especially when you're dating. If you're like us, when your relationship was just starting out, cost wasn't really an issue. And why should it be? You're in love! The bill at the end of the meal is nothing compared to the value of the time you get to spend together.
But dates cost money, and that doesn't change once you're married. But here's what does change: perspective. When your lives merge, your budgets merge, and suddenly you realize that a $135 date night is costing you both. It's easy to let this get you down. Trust us. We were there. Just a few months after being married, once we had entered that overwhelming world of budgetary purgatory, we knew we had to cut back on some expenses. Sadly, our date nights were one of the first things to go.
He stopped buying me flowers.
She stopped getting me little treats.
Honestly, some of those things just didn't seem as important as they once did, but there were other things that were deeply missed.
So the question naturally arose: How do we date without spending so much green?
For us it started out with just cutting back on how much green we spent on a date, but as our budget got tighter and tighter we eventually found ourselves cutting back so much that nothing was left. We could've made allowances for spending more money. We could've gone out to eat more or had more rounds of mini-golf. But we had decided as a couple to get really serious about getting out of debt. We were being gazelle-intense because we wanted to be able to live free of creditors, bills and interest rates.
So, okay, no problem. Date nights on the cheap it is! There's plenty of free stuff to do—museums we can see, mountains to hike, bike rides we can take and parks we can visit.
But here's the thing. Money provides an ease and immediacy that doesn't necessarily require any pre-planning. It's easy to say, "Let's go out to eat tonight!" or "Let's see a movie!" because the convenience of money makes us impulsive. If you're going to do dates on the cheap you have to be intentional about it, otherwise you'll wake up one morning and realize that three months have passed and you and your spouse haven't been out on one date.
And so we present: a year of free dates!
Jake here. I've got to tell you about this from my perspective. My wife is an amazingly creative woman. I'm the artist, but she's the clever one. For my birthday last year she gave me 12 envelopes, one for each month of the coming year. At the beginning of each month I open up one of the envelopes to reveal a suggestion or two for a relatively cost-free date night. Some of the ideas she came up with have been a ton of fun.
Let's Be Famous
Make a funny YouTube video or a fake commercial to post online for all your friends to see. For us this turned into The Penny Pinching Rap, a music video that served as a celebratory number for our completion of Dave Ramsey's Financial Peace University. The video actually landed us on national TV, but that's a whole other story. Ultimately this "date night" is intended to get you and your spouse to spend some quality time together, laughing as you create something fun.
Theme Night
Your imagination can really go wild with this one. Are you sci-fi fans? Do you have any crazy Halloween costumes? We chose to do a 1950s theme. We made diner-style cheeseburgers and French fries and ate to the rock 'n' roll hits of the 40s and 50s. After dinner we set up a projector in our backyard and had an "at home drive-in movie" featuring An Affair to Remember, with Cary Grant and Deborah Kerr.
Christmas Cookie-Baking/Christmas Movie-Watching Marathon
Maybe one of you doesn't care for baking. That's understandable. The point here is to have fun together while laughing at your favorite Christmas movies. And, really, who doesn't love the sweet taste of freshly baked cookies?
Living Room Camp Out
Send the kids to the grandparents'. Pick a movie. Throw the mattress on the floor. Make S'mores. Cuddle. It's a recipe for fun!
Dani here. This gift of a year of dates was lots of fun for me to create, but even more fun to participate in. If I've learned anything since beginning our free date nights, it's that no matter where we are financially we can still make dating fun, exciting and an opportunity to continue to get to know each other. Not only do I enjoy our free dates, but I've also found that we communicate a lot more when planning for them, executing them, and reminiscing about them.
We have also learned more about each other—like the fact that Jake is pretty good at writing rap songs! Now how would I have learned that about my husband if we had just gone to the movies?
When it comes to planning date nights, there are so many things you can do. Look for free local activities in your area such as music nights in the park or art exhibits. Take a drive to watch the sunset on a mountaintop. If you feel like staying home, eat dinner in reverse: dessert, then the meal, then the appetizer. Be silly. Have fun. And remember that what we find enjoyable may not be your cup of tea, so put some thought into this and pick some things for you and your spouse that you'll get a kick out of.
Being intentional about dating is going to take some thought, but years from now you'll be glad you did. You'll have fond memories in your head—and a lot more greenery in your pocket.
Keep pinchin'!
Jake and Dani are just two crazy kids enjoying life and each other as much as they can. Their blog, Penny Pinching Prose, is about their journey to debt-free living mixed with a cup of humor, a dash of creativity and a sprinkling of faith. They are wild advocates for Dave Ramsey's Financial Peace University and recommend it for any couple struggling with finances. Dani works in the field of adult mental health. Jake is a published author and artist who works in marketing/publishing. They live in New Hampshire. Visit their blog and Jake's website for more great stories and ideas!