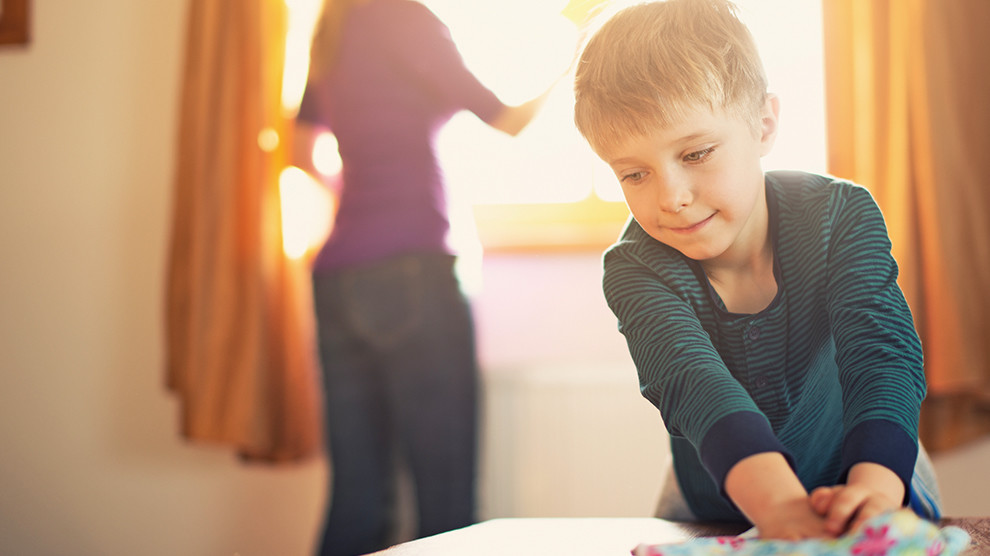 For Christmas, my kids received some great gifts. At the top of the list was probably our new goldendoodle puppy, Charlie. (And who could blame them for putting Charlie first? He's stinkin' cute!)
But following close behind Charlie were the Financial Peace Junior kits my wife, Holly, and I bought each of them. And let me tell you, they love the kits. It's so fun to see how each child seems to get something different out of them because God has wired each of them differently.
For example, my oldest (Max, 11) is a spender, while my middle child (Jack, 9) is a saver. Little Annie, 7, wants to give all her money away every time she gets any. They all approach money a little differently, so I have to approach the way I teach them about money differently.
That used to intimidate me, but Financial Peace Junior makes it easy and fun. It's packed with newly redesigned tools for them, like give, save and spend envelopes, an activity book, and a dry-erase chore chart with magnetic labels. For parents, it includes an updated parent guide, the Smart Money Smart Kids e-book, and free video lessons from the Smart Money Smart Kids class.
Related: Financial Peace Junior doesn't just give you the tools you need to teach your kids to win with money—it shows you how!
Financial Peace Junior lets each kid celebrate their individual money personality while teaching them the value of the others too. My kids are still young, but the money lessons they're learning now will stay with them as they face the realities of growing up and making important financial decisions.
Proverbs 22:6 (ESV) tells us, "Train up a child in the way he should go; even when he is old he will not depart from it." I'm so glad my kids have this great resource to teach them such valuable life lessons while they're still young.
They've even found some, um, creative ways to have fun with it. One morning not long ago, I was going over their Financial Peace Junior chore charts hanging on the refrigerator. I noticed that Jack had sarcastically written on Max's chore chart that Max was saving up for . . . "Jack's life." Pretty funny!
We love the sense of responsibility the kids receive from completing their tasks. Every morning they run to do their chores so they can check them off the list. They know that payday Friday is right around the corner, and Mom and Dad know the puppy's been fed and the LEGOs have been picked up.
It's even been fun to hear them shout from across the room, "But that's not in the budget!" or to see them not ask for a toy every single time we go to the store. They're starting to get the idea that money doesn't grow on trees!
But most fulfilling is to watch Max, Jack and Annie figure their tithe first before they do anything else on payday. Psalm 127:3 (CEV) tells us, "Children are a blessing and a gift from the LORD." At times like these, Holly and I realize we have the unbelievable privilege as parents to steward our kids' lives and shape their hearts.
Many teenagers nearing adulthood have no idea what it's like to run a household—to budget, pay bills, buy groceries, and plan for giving. Holly and I have decided we want to equip our kids to be successful adults. When our children leave home, they will know how to handle the financial challenges and temptations they'll face. It's our responsibility to teach them this, not their teachers'. If they understand how money works when they're young, they won't end up with money regrets later on in life.
So whether your kids naturally lean toward spending, saving or giving, Financial Peace Junior can show them how all are important in managing God's blessings God's way for God' glory.