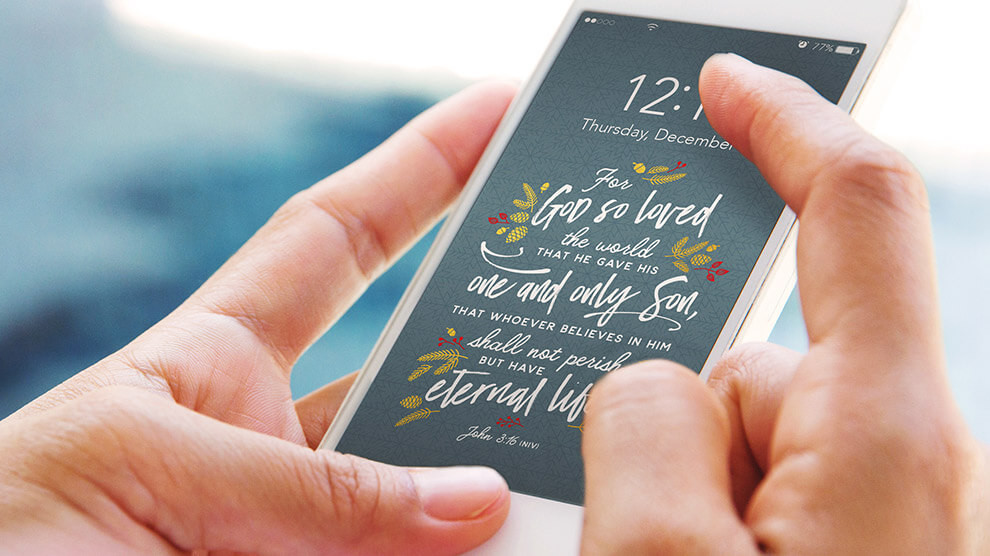 At the end of the year, it's fun to start looking forward and setting goals for the months ahead. After all, now is the time to start thinking about New Year's resolutions, right? But before you get too focused on things you want to do next year, spend some time looking back on this year.
Rather than focusing too much on what did or didn't happen, focus instead on identifying all the ways God showed up over the course of the last twelve months. There are a lot of ways to do this, but one great way is by memorizing—and reflecting on—Scripture.
So, for the month of December, we're posing a challenge. Can you memorize four Bible verses this month? That's just one verse per week.
To help you out, we've included two links next to each verse! Download one to make the verse your phone's wallpaper and download the other to print out the verse and tape it to your fridge or in your car. And as you study the verses, challenge yourself to not only commit them to memory, but to apply them to the things you experienced over the course of 2016.
1. "For God so loved the world that he gave his one and only Son, that whoever believes in him shall not perish but have eternal life." John 3:16 (NIV)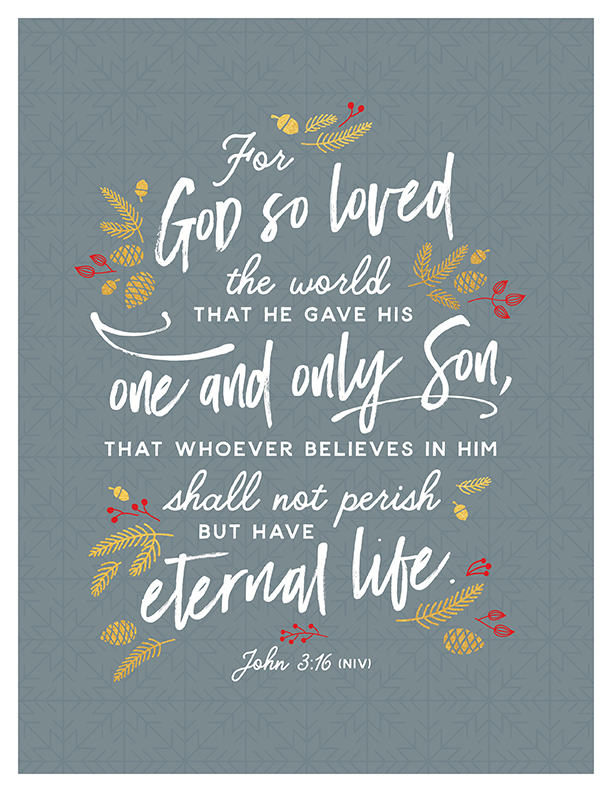 If you faced some challenges this year, you might struggle to come to terms with this verse. But no matter what happened, the fact still remains: God loves you so much that He sacrificed His Son to make sure you could spend an eternity in Heaven. And if He loves you enough to do that, find comfort in the knowledge that He loves you enough to walk with you through the good—and the bad. The best part is none of it depends on how well we perform; His love is unconditional.
Download the full-page verse to print
2. "Whoever sows to please their flesh, from the flesh will reap destruction; whoever sows to please the Spirit, from the Spirit will reap eternal life. Let us not become weary in doing good, for at the proper time we will reap a harvest if we do not give up." Galatians 6:8–9 (NIV)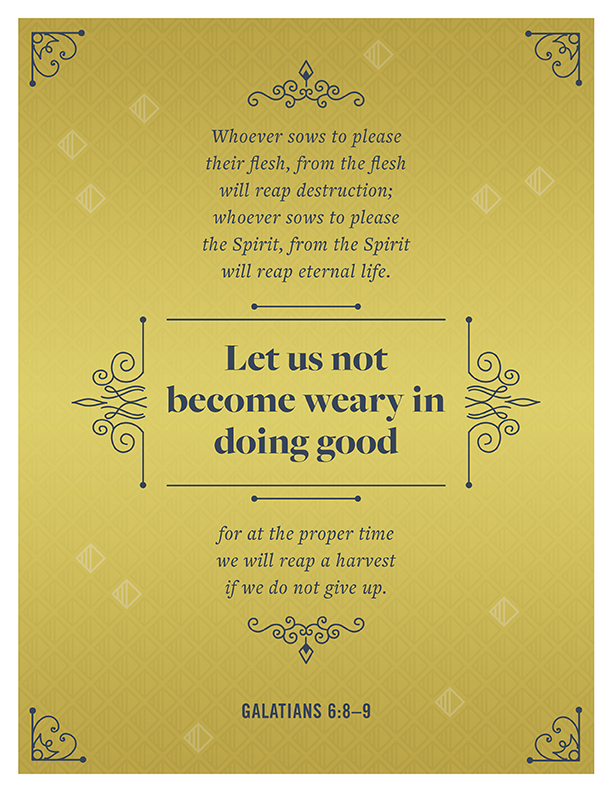 Now, Paul didn't write this to say you should never feel discouraged, disappointed or sad. There is a time for everything—and that means you probably will face some uncomfortable trials and tribulations this side of Heaven. But be encouraged: You have a hope that never fails. More importantly, this passage doesn't say you might reap a harvest, but that you will reap a harvest. It's such great news that we have a reason to hope and the promise of good things to come.
Download the full-page verse to print
3. "Come to me, all you who are weary and burdened, and I will give you rest. Take my yoke upon you and learn from me, for I am gentle and humble in heart, and you will find rest for your souls. For my yoke is easy and my burden is light." Matthew 11:28–30 (NIV)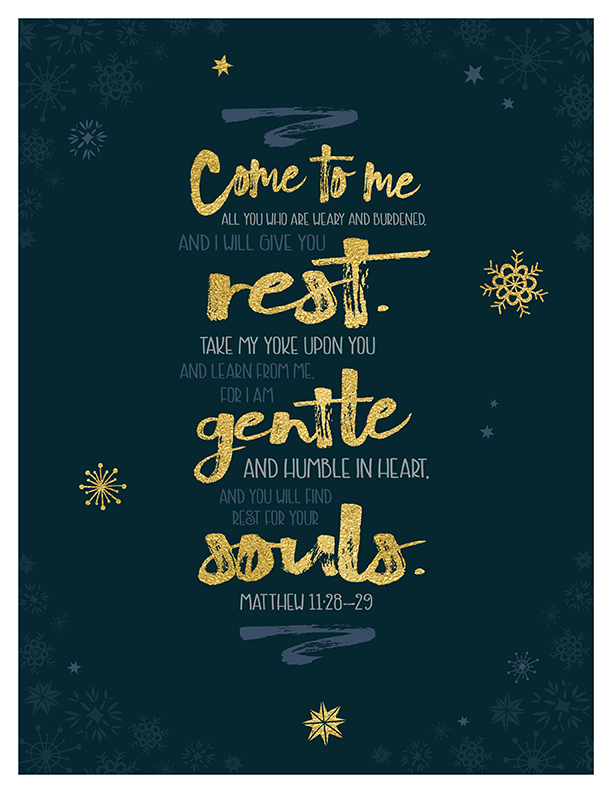 There is no better time of year to focus on these verses than in the week leading up to Christmas. We often forget our Lord offers a rest that goes beyond a simple nap or a Saturday spent in pajamas. Instead, He offers true rest—not just for our bodies, but for our souls. So if you can't get to everything on your checklist this Christmas, or you didn't accomplish everything you wanted to this year, give yourself some grace and bring your burdens to Jesus.
Download the full-page verse to print
4. "So from now on we regard no one from a worldly point of view. Though we once regarded Christ in this way, we do so no longer." 2 Corinthians 5:16 (NIV)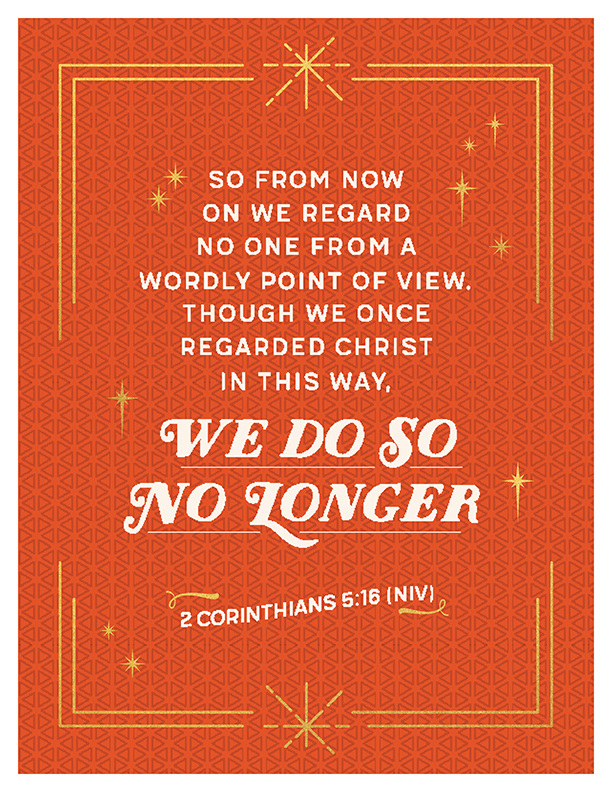 We might be living on earth, but every single person we meet is here for a reason. God created each and every one of us with a specific purpose in mind. That includes the people we love as well as the people we disagree with. As you commit this verse to memory in the final week of December, challenge yourself to enter the new year with the goal of viewing everyone you encounter as not just another person, but as a child of God.
Download the full-page verse to print
If you're up for the challenge, save these graphics to your phone, print them out, and then post them on social media. Share what you're learning as you study these verses and reflect on the year.
Be sure to use the hashtag #verses4december on your posts so we can see how God is showing up in your life!