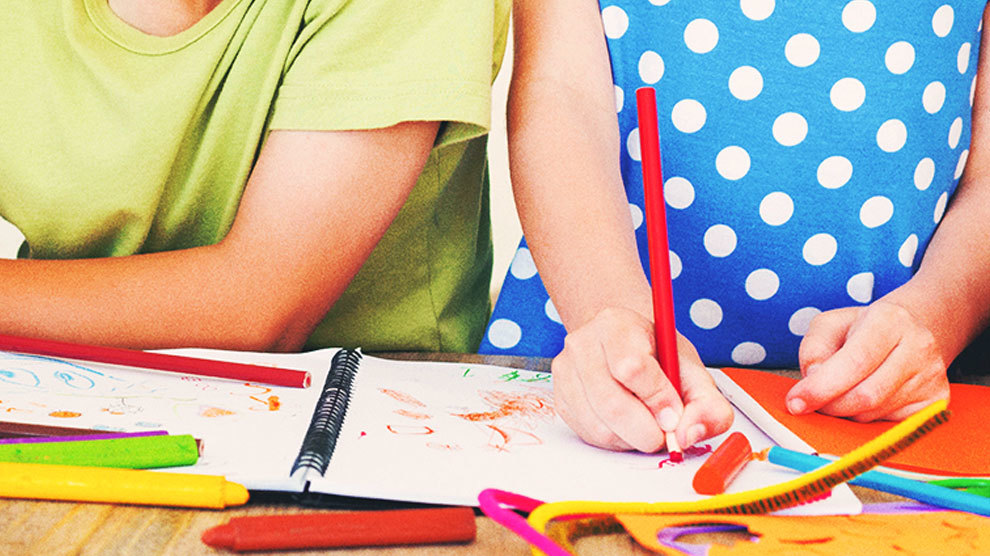 A brittle Saturday afternoon in January is made bearable only by loads of blankets, hot chocolate and movies on TV. This strategy works wonderfully—until the kids get bored. That's why you need a backup plan. Enter: Afternoon Activities.
For the first installment of this new series, your kids will create 2015 goals. This activity can be tailored for participants ages 3 and up. That means you and your spouse can play along too!
Gather your supplies
- Construction paper, 1 sheet per child
- Index cards, 2 per child
- Pens or pencils
- Notepad
- Tape
Optional: markers, crayons, stickers or glitter
Get prepared
For each child, write out the words Me, Others and God in block letters down the left side of one index card.
Then, for each child, write out the following Bible verse on one index card: Commit everything you do to the Lord. Trust him, and he will help you. —Psalm 37:5
Reflect
Gather everyone around the table and say something like, "Let's talk about last year. What is the most awesome thing that happened?" Encourage all answers—especially the silly ones. If you had a tough year, it's okay to acknowledge that. But be sure that the focus remains fun. Laugh with your family as you think about all the good that took place in 2014.
Then say, "Wouldn't it be great if this year turned out even better than that?"
Dream big
Grab your notebook and a pen, and say, "Alright then. Well let's start dreaming! Think about some of the things you'd like to see happen this year. When you've got it in your head, shout it out!"
Assure your kids that no dream is too big or too small. Jot down all of their answers and read them out loud once the list is complete. Say, "You guys, this list is incredible! One of the best ways to see our dreams come true is to make a plan. So that's what we're going to do today."
Make a plan
Hand each kid a piece of construction paper, two index cards and a pen or pencil. Instruct your kids to pick up the first index card and a writing utensil.
Then say, "On this first card we're each going to write out our goals for the year. You'll write three goals in three categories: me, others and God. The first goal is all about you! Think of one thing you'd like to accomplish, try, or do this year. Then write it down.
"The second goal is all about others. Think of a way you'd like to help others this year—that could mean being a better friend, giving to people in need, or something like that. Once you've got that goal in mind, write it down.
"The third goal is about your relationship with God. Think about one way you'd like to get to know Him better this year. Then write it down."
If your kids need help writing or coming up with goals, smile and jump right in.
Remember your helper
Ask your kids to grab the index card with a Bible verse. Say, "When we look at our goals for this year, we have to remember what the Bible tells us. Psalm 37:5 says, 'Commit everything you do to the Lord. Trust him, and he will help you.' Why do you think this is important to remember whenever we think of our goals?"
When they hit on the right answer, say, "That's right! There will be some days when we are really proud—when we're right on track and everything is going the way we hoped it would. On other days, though, we might feel discouraged. We may not feel like trying, or maybe when we do try, things still don't go as planned. But if we choose every day—good days and bad days—to give our efforts to God and to trust Him, He will help us!"
Have some fun!
Instruct your kids to tape their index cards to the piece of construction paper. Then pass out any crayons, markers, stickers or glue. Say "Now we're going to decorate our pages. Remember: These goals are all yours, so you can decorate them in any way you like!"
When everyone is finished, hang the goals in a prominent place like each child's bedroom or in a family bathroom. Talk about them regularly—always in an encouraging, upbeat tone.
When next January rolls around, begin this activity again. This time, though, you'll have the added joy of bragging on your kids for reaching their goals!