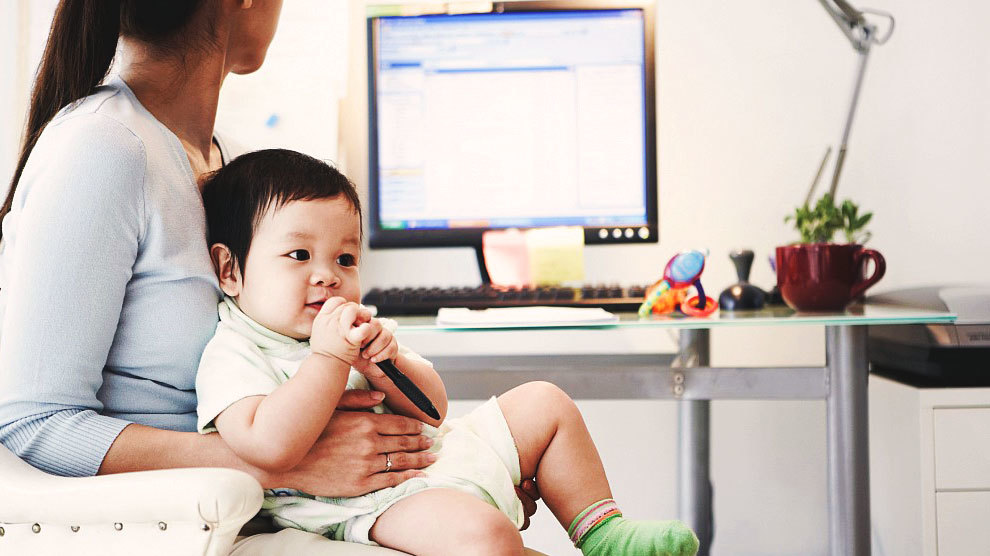 When I tell people I'm a mom to three active children and I've worked from home for 20 years, I get two responses: "I don't know how you get anything done!" or "I wish I could do that!"
Although the flexibility sounds enticing, most people don't think they have what it takes to be disciplined and productive in a home office. They worry about becoming distracted by family, neighbors, Facebook and even the laundry. And most moms are busy enough with their household responsibilities—they can't imagine how they would squeeze in time for work.
Related: Learn Practical Ways to Take Control of Your Money. Order Financial Peace University
But working at home is on the rise. In fact, the U.S. Census Bureau reports a 35% increase in the number of people working from home in the last decade. This mobile workforce is made possible by advances in technology, and it helps reduce our carbon footprint and eases traffic congestion, but the real benefit is much more valuable: Working from home provides a more family-centered lifestyle.
Personally, I find the rewards of working from home far outweigh the challenges of staying productive. (I'm working in my yoga pants right now.) But maybe that's because I've been at it so long and I've adopted a few systems and strategies to ensure things go smoothly. I've learned to be intentional about how I spend my day and to ruthlessly protect my time from distractions.
If you are a work-at-home mom or are considering becoming one, here are some of my best tips for staying productive.
1. Create a Schedule.
If you're a creative mom, you may have an aversion to schedules and deadlines. But do yourself a favor and try it for a week. Set aside a specific time slot for your business instead of working only when you feel inspired, or if you have the energy, or whenever the kids are occupied.
Even if you can only devote an hour a day to your business, it's important to know exactly when that hour is and what you intend to do with it. You can accomplish a great deal in 60 minutes of focused work. But if you try to steal five minutes here and 10 minutes there, you'll likely find yourself stuck in the same place for weeks.
2. Establish Boundaries to Eliminate Distractions.
This is where most work-at-home moms struggle. They flow back and forth from mom to businesswoman all day, never sure which role they should be playing. You know what I'm talking about—you're working on a project and your child wants you to play a game, so you try to do both at the same time. Or you make empty promises that you will play the game in 10 more minutes.
When you set boundaries like designated work space and specific office hours, it gives you the freedom to concentrate fully on the task at hand—whether at work or play. But you have to honor those boundaries by not taking personal calls or answering personal emails while you are working, and by putting your phone out of reach when it's time to be with your children. Your family will appreciate the boundaries. They'll learn to recognize when mom is working and when she is available rather than constantly having to compete for her attention.
3. Find Reliable Childcare.
I remember when my oldest son was a baby and I was working from home on a writing assignment for a large law firm. I had it planned out perfectly. I would have two hours a day to write—during naptime. All of a sudden, my perfect napper decided not to sleep every afternoon. So after weeks of frustration and misplaced anger (I'm sorry, Andrew!), I ended up writing while my son watched TV.
If your children are not yet in school and you have a home-based business, find a consistent and reliable form of childcare—even if it means swapping playdates with a friend.
Related: Choosing Childcare For Your Baby
4. Let Go of Something.
Chances are you were a busy mom even before you started your business. Or maybe you were a busy entrepreneur before you became a mom. Either way, when you add a new responsibility, you've got to let go of something else. Nobody is going to do this for you. You have to be the one to reprioritize and cut back on the activities and obligations that no longer seem to fit so you can be a good steward of your time. The key to safeguarding your time is to learn the art of saying no with clarity—and without guilt. That means making decisions based on your priorities and not feeling pressure to explain or justify those decisions. It's okay to say no to the PTA or church committee!
5. Don't Compromise Sleep.
Remember when your baby was born and the doctor told you to be sure to take naps whenever the baby slept? Of course you were thinking of all the dirty laundry that need to be washed and the fact that you hadn't taken a shower all day. But if you were smart, you took a nap. Because you knew that a cranky mom is no good to anyone.
The same thing holds true now. If you're burning the midnight oil because you can only work on your business while the kids are asleep, please stop right now. The lack of sleep will catch up with you and you'll find yourself sick and unhappy. I can tell you from experience that it isn't worth it. You'll be a much better mompreneur if you are sleeping well.
6. Hold a Weekly Planning Meeting.
Ever have one of those days when you were busy all day but you have no idea what you did? This happens when we are not clear on our priorities. We bounce from one thing to the next without completing anything. And we get distracted on a seemingly worthwhile task like cleaning out the fridge only to avoid doing what really needs to be done like completing a project for a client.
The solution? A weekly planning meeting—one of the best productivity tips for mompreneurs. Take 30 minutes at the beginning of the week to establish your top priorities for the week. This is not about writing a to-do list. This is a chance for you to focus on your goals for your business, your family and even yourself. Write down your priorities for the week then carve out time on your calendar to work on those tasks.
7. Get Out of the House.
This is difficult for many moms with small children. After all, one of the reasons we choose a home business is because we want to be home with our families. But when you are running a business in a vacuum, it can get a bit lonely. While a lot of connecting begins online, real relationships are still developed in person. So make attending local networking meetings, conferences or events a part of your regular schedule. That's where you can meet clients, colleagues and mentors to support you on your journey. Plus, not only will you make new friends, but also the fresh air and change of scenery will be good for you!