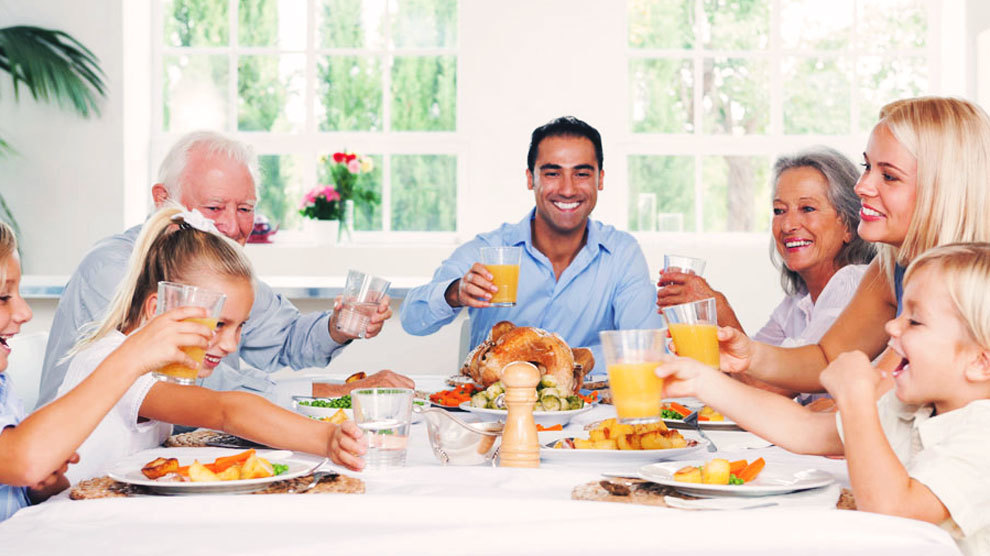 Parties are the best part of the holiday season—especially when there's food involved. Dinner parties give people an excuse to gather, and the table gives everyone a centralized place to chat and connect. All you need for a successful party is good food, the right mood and maybe some decorations. What you don't need is more stress.
Whether you're hosting your extended family for Thanksgiving, your parents for Christmas Eve dinner, or friends for a holiday gathering, you can try out a few of our tips below to relieve a little pressure and experience a whole lot more joy.
Related: Learn How to Manage Your Money Wisely this Holiday Season. Order Financial Peace University Today!
1. Stick with what you know.
The Pilgrims set some pretty strict guidelines for our Thanksgiving menu. But maybe your family didn't follow the turkey, sweet potato and green-bean casserole rules.
If frying a turkey for the first time gives you the jitters, just stick with what you know. Bake your grandma's ham recipe, pass on the sweet potatoes for your mom's twice-baked potatoes, and serve your pumpkin-free dessert that everyone raves about.
2. Ask your guests to bring something, and be specific.
Most adults who are invited to dinner naturally say, "What can I bring?" We're here to tell you the answer should be anything but nothing. In fact, it's even okay to include a request for help on the invitation or to ask by phone or email.
You can avoid duplicates by making specific requests like "Your homemade rolls are my absolute favorite! Would you mind bringing those to the party?" You could also try assigning categories. For example, grown grandkids are responsible for an appetizer or dessert. Aunts and uncles, please bring a side.
3. Pick a theme. Or don't pick a theme.
Conflicting advice? Sure. But here's the deal. For some folks, a theme helps facilitate decisions. For others, themes are just a reason to go overboard. Decide which type of person you are and run with that. And no matter what, follow this sage advice: limit your time scrolling through Pinterest.
4. Shop for decorations in your own home or yard.
Peruse your lawn for sticks, leaves and pinecones. Grab glass jars or vases for the sticks, use the pinecones as name placeholders, and lay the leaves along a table runner. Or, for Christmas, cover empty boxes in pretty wrapping paper and use craft paint to jazz up plain candle sticks. Shop your own home and yard—you never know what you'll find!
5. Clean and decorate a week before the event.
This is best idea ever. Yep, we said it. Tell your kids and your spouse, because they're going to love it. Oh, and they're going to help too. Do a deep clean in high traffic areas—bathroom, kitchen, living room—a week before the party. Set the table. Put out the decorations. Sit back and marvel at the fact that you have a whole entire week to breathe easy before the mild chaos of cooking begins.
6. Remember: Your main responsibility is to create a welcoming space.
The holidays are synonymous with food and décor, but that's not necessarily what your guests will remember. So train yourself to think conversation over clutter. Will your get-together leave your guests speechless—and not in a good way?
Find small ways to create a welcoming space. Take off your shoes, light a few candles, turn on some happy tunes, and open the front door. Arrange the furniture and the flow of the food to facilitate conversation. Point out important things as soon as guests arrive—the bathroom, the drinks, and a place to kick back and unwind. For good measure, go ahead and say, "Make yourself at home!" When you're prepared and stress-free, you'll mean it.
7. When the party starts, don't forget to be a part of the party.
Perfection is overrated, and cleaning can wait. If you really want everyone to feel at home, you've got to join them! Engage in conversation and ask questions to get to know your guests better. Even if you're entertaining family or lifelong friends there's always something you can learn.
When your guests are ready to move on from dinner to the living room, move with them. Laugh at their jokes, listen to their stories, turn up the music, or pull out some games. And for the love of all that is good, don't fuss with the dishes or ask questions like "Are you having fun?" Just relax. If you're having a nice time, chances are everyone else is too.
What tips would you add to our list?