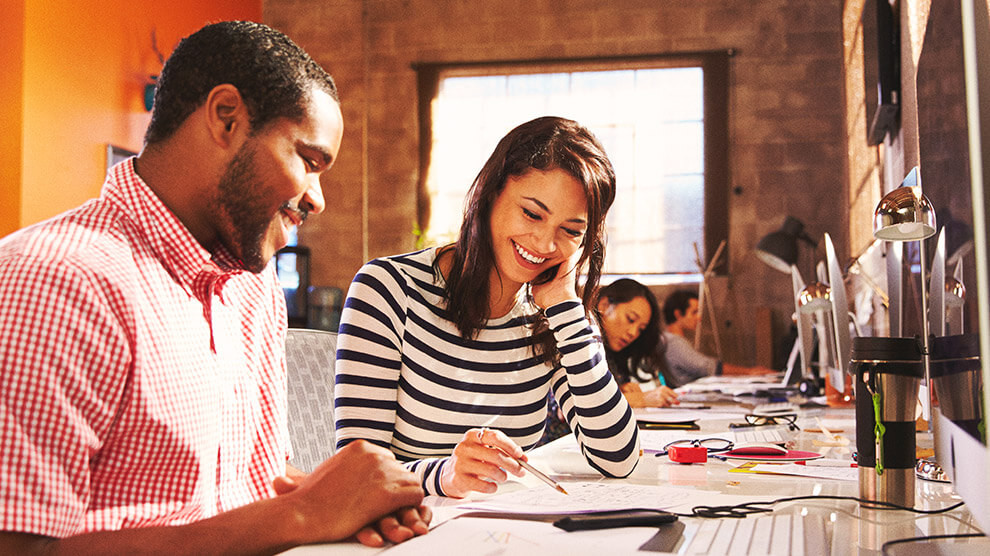 If you're a millennial in the workplace, you've probably been accused of being lazy, entitled and difficult to manage. Or you've at least heard people say it about other millennials.
And whether someone said it about you or was just referring to your peers, you know it's not the best feeling—especially when you're trying to figure out the ins and outs of the working world. After all, the nine-to-five lifestyle is nothing like high school, or even college. It's tough.
There's a lot of advice out there on how to make your work feel more meaningful and how to have happiness in your job. Some people say it's your company's responsibility to make you feel happy at work.
But when you place the responsibility of your happiness on someone else (whether it's a person or a company), you're setting yourself up for disappointment. So instead of relying on a job to make you feel better, here are six things you can do to find happiness in your work.
1. Grow where you're planted.
It may be hard to stomach—especially if you're not doing exactly what you love—but God placed you where you are on purpose. He entrusted you with the job you have. And as a steward of all His blessings, it's your responsibility to work hard. Strive to do excellent work not just on the big projects, but in the ordinary things. And if you start to grow weary, remember Colossians 3:23 (NIV): "Whatever you do, work at it with all your heart, as working for the Lord, not for human masters."
2. Invest in your coworkers.
We live in a digital world. Our cell phones are always attached to us. But if you want to enjoy your job more, make it a priority to get to know your coworkers. Instead of arriving early to a meeting and texting or checking social media, talk to the other people who are sitting around waiting for the meeting to start. How is their day going? How is their family doing? Are they excited about any upcoming projects at work or at home? Be the person who steps up and initiates conversation. It shows you care, which speaks volumes—and will make you happier to come to work each day!
Be the person who steps up and initiates conversation.
3. Understand where your value comes from.
It's easy to forget our value comes from God, not from our work. It's one of the hardest things for us, as humans, to understand. But it's so important to remember God finds value in your very being. That's why He made you in the first place! Think about it. If He didn't think you were worth creating, He wouldn't have placed you here. But here you are. So remember, your job doesn't determine your self-worth.
4. Practice patience—frequently.
We like instant gratification! But Romans 5:4 (ESV) says, "Endurance produces character, and character produces hope." That sounds pretty contradictory to our fast, one-click, buy-it-now world, doesn't it? We don't have to be patient these days—not for most things, anyway. But some things take time—like love, job fulfillment and skill-building. So don't be discouraged if you aren't immediately moving up the corporate ladder. It takes a lot of patience, hard work and time to build a career!
5. Don't be afraid of failure.
We're all a work in progress. Even the people who look like they have it all together mess up and make mistakes. If you can view failure as a chance to grow, you set yourself up to learn from your mistakes and do better in the future. That doesn't mean you won't fail again, but it means you'll better position yourself to adapt and grow—and that will set you apart from other people in the workplace.
6. Always be teachable.
Speaking of adapting and growing, one of the most important things you can do is be willing to learn. You had to be teachable in school in order to learn from your professors. Keep that habit up! Have the courage to ask for help, and be willing to learn from people who know more than you. Try to embrace what you don't know rather than be embarrassed by it. Contrary to popular belief, people admire those who admit they don't know all the answers. It shows humility, and it's one of the fastest ways you can grow in your career.
Some of it sounds cliché, but people say these things for a reason. Resist the urge to let these tips go in one ear and out the other. If you can embrace the slow and steady mentality and stay open to learning and change, you're going to have a much better chance of loving your job—and who wouldn't want that?