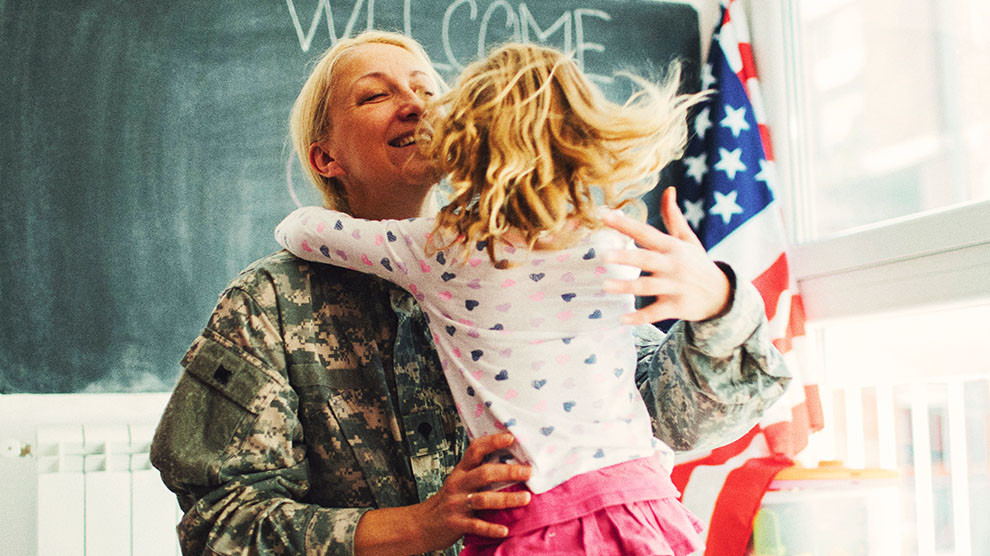 You may know Veterans Day as a day off from work. And while that may be true for lots of people, November 11 isn't about vacation.
Let's get a little historical for a second. November 11 is actually the anniversary of an armistice signed by the Allied forces and Germany, essentially ending World War I. And in the U.S., it's the day we honor and thank the men and women who have served or are serving in the U.S. armed forces.
For Christians, that's a big deal—regardless of your feelings about war.
Veterans Day matters to Christ-followers because it's an awesome opportunity to show the love of Christ to more than 22 million people. Whether their service dates back to before World War II or they've reenlisted for active duty, whether they've served in wartime or peacetime, veterans put their lives on the line to keep us safe. They deserve to know we're grateful for them—and that they're loved.
So how can you thank a veteran this November 11? Here's how veterans themselves say they feel most appreciated:
1. Just say thank you.
Honestly, a lot of veterans just appreciate a hearty handshake and a "Thank you for your service." It's simple, but it goes a long way. And it's even more powerful if a child thanks them. So if you have kids, teach them to value veterans and to be brave enough to approach them. You might have to coach your kids at first, but if you do it from the time they're little, it'll be something they do for life—Veterans Day or any day.
2. Be a veteran-friendly business.
If you own a business, no matter the size, offer military discounts. Vets are incredibly thankful for those—and who doesn't like free or discounted food, merchandise or services?
Also consider hiring veterans. The stereotypes around veterans—that they're all burnt-out and weary or gruff and disagreeable—just aren't true. The vast majority are educated, disciplined and hardworking. They understand duty, honor, sacrifice and service—skills that can be tough to teach team members. Often, veterans make the best hires.
3. Spend time with them.
Know a veteran personally? Just being with them can be all the thanks they need. Maybe the person wants to talk about their memories of deployment—or maybe they want to talk about anything but that. In either case, let them lead the way and just listen.
For a change of scenery, take them to an air show or to visit a historic U.S. naval ship. Or spend Veterans Day at a parade in your community. Not only will you both learn a little history, but you'll spend time around other veterans who share a common history with your veteran—and that's something they'll appreciate.
4. Ask if you can help.
If a veteran in your life seems like he or she could use help—with jobs, school, health, or even managing their military benefits—offer to connect them with one of the many organizations, ministries or other resources available to them through the U.S. Department of Veterans Affairs. If you sense your friend or loved one is going through a particularly difficult time, learn how you can support them.
Don't know a vet personally, but still want to express your thanks in a more tangible way? Check out Operation Home Front, an organization that provides relief and ongoing support to veterans and their families. The group even allows people to donate to specific vets in need of emergency assistance. So if you have a little extra money to give this month, consider expressing your gratitude to a vet by giving generously in his or her time of need.
5. Love their families.
Taking care of the spouses and children of people who are serving or have served can be as meaningful as thanking the veterans themselves. James 1:27 calls us to care for widows and orphans, and when a spouse is away on a long deployment, the family left behind can often feel alone and in need of extra help.
It can often be a struggle for a spouse to manage the household andcare for children on their own. That's where you come in: Offer to bring them meals, babysit, or help with home or car repairs. And if they're struggling to manage their money, consider giving them the gift of Financial Peace University.
According to a 2010 FINRA Foundation study, many military families struggle with credit card debt, overdrawn checking accounts, debts to payday lenders, and coming up with money in an emergency. That's a recipe for financial disaster. So helping a military family take control of their money could be the best way to show that you love them.
This Veterans Day, take the time to say thanks to a veteran —and give thanks to God for people like them who sacrifice so much to keep us safe and free.