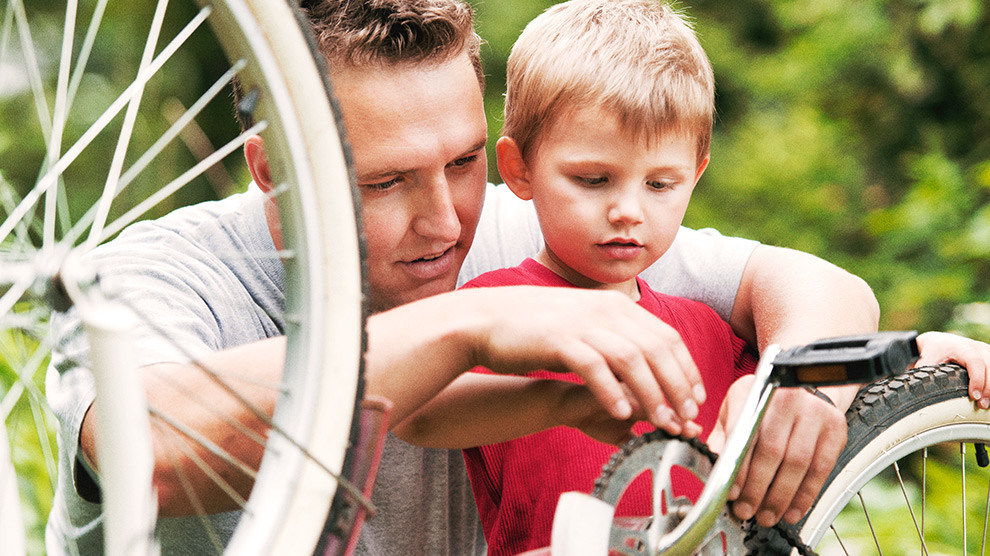 My wife Holly and I have two boys, Max (11) and Jack (9). Before we continue, I need to ask you to pray for me. Seriously, these two have never-ending energy! I like to half-joke that they have me "Maxed out" and "Jacked up." They're a ton of fun, though. Being a parent to boys is such an adventure!
But Holly and I also feel a tremendous weight to shape their hearts. I didn't have a mom or dad who did that for me, so I'm extra-sensitive to the responsibility and privilege to do so. I don't always get it right, of course, but I'm thankful that God continues to grow me in this area.What's the big message Holly and I want our boys to hear?
What's the big message Holly and I want our boys to hear? That we love them unconditionally. But there are lots of ways we can let them know that besides a simple "I love you."

Here are five things Holly and I say to our boys often that are helping grow their behavior, faith and self-worth. Try them with your own boys and see if you notice a difference too.
1. Say this: "You can do it."
Our sons want to know they have what it takes to reach their goals, to be brave, and to persevere. They're boys! And as parents, we want to encourage them. But we should also point them to Christ, who is the ultimate source of their strength. As Paul reminds us in his letter to the Philippians, we can do all things through Christ who gives us strength (Philippians 4:13).
I want to raise boys who have a faith stronger than mine. Boys who believe that what is impossible with men is possible with God (Luke 18:27). And boys who know I believe in them. I never had a dad who believed in me, but I had several pastors, leaders, teachers and coaches who did—and that was powerful!
2. Say this: "What do you think is a wise decision?"
I love asking my boys this question and seeing them think through the tough issues! They don't get a pass on wrestling with God themselves. The Bible tells us to trust in the Lord, not our own understanding, and He will make our paths straight (Proverbs 3:5–6). Asking my boys to really consider the Lord's point of view has empowered them when they make wise decisions.
This has cultivated a lot of discipline in their young hearts. And it's hopefully keeping them from becoming adults with weak backbones who wait for the news or a pastor or a leader to tell them what to think. It's so fulfilling to see my boys' faces light up when they make a wise decision without my guidance—but with Christ's.
3. Say this: "I'm proud of you."
Far too many men never heard these words growing up. I'm one of them, but I refuse to do that to my sons. Let's be a generation of parents who aren't shy about telling our sons we're proud of them. That includes their accomplishments, but more importantly, their hearts.
And if we mold their hearts, the accomplishments will take care of themselves. That's why God made David king—because he was a man after God's heart. And it's why God was proud of His own Son—because "Jesus grew in wisdom and stature, and in favor with God and man" (Luke 2:52 NIV). Seeing Jesus do what God sent Him to do made the Father proud. Christ's heart shaped His accomplishments. That's what I want for Max and Jack.
4. Say this: "What are you thankful for today?"
I'm proud of the fact that my sons' childhood is crazy different from mine. But if I'm not careful, that can create a sense of entitlement in them. I really want to repel that mindset with all my might!
How do I do that? I ask them what they're thankful for all the time. God's will, after all, is that we should give thanks for everything (1 Thessalonians 5:18). This gives them lots of opportunities to either acknowledge how great God has been—or to be honest about not liking Him very much right then.
Either way, their feelings usually lead us to a gratitude talk, which often creates a deeper heart change. Suddenly, they're not as upset about the lemonade they didn't get with their chicken nuggets.
A grateful heart is an attractive—and generous—heart. And if I want my boys to someday become generous, effective leaders in their families and for the kingdom, they need to learn to be thankful.
5. Say this: "I'm sorry. Will you forgive me?"
Few things surprise my sons more than when I admit I'm wrong and ask for their forgiveness. Why? Because so few parents dare to be so vulnerable. Here's the cool thing: that scarcity actually causes my apologies to buy me more relational chips with my sons. They see that I actually practice what I preach and own my mistakes! Like my friend Rachel Cruze says, "More is caught than taught."
These five small phrases have been huge for my relationships with Max and Jack. They're not just reminders to my boys that I love them, but that God does too. Because the more I aim to treat them like our Father treats us, the more likely they are to live the lives that God and I want for them.
I may be Maxed out and Jacked up, but being Max and Jack's dad is such a privilege. May the words I choose to use with them express what my heart feels: a deep love for them.