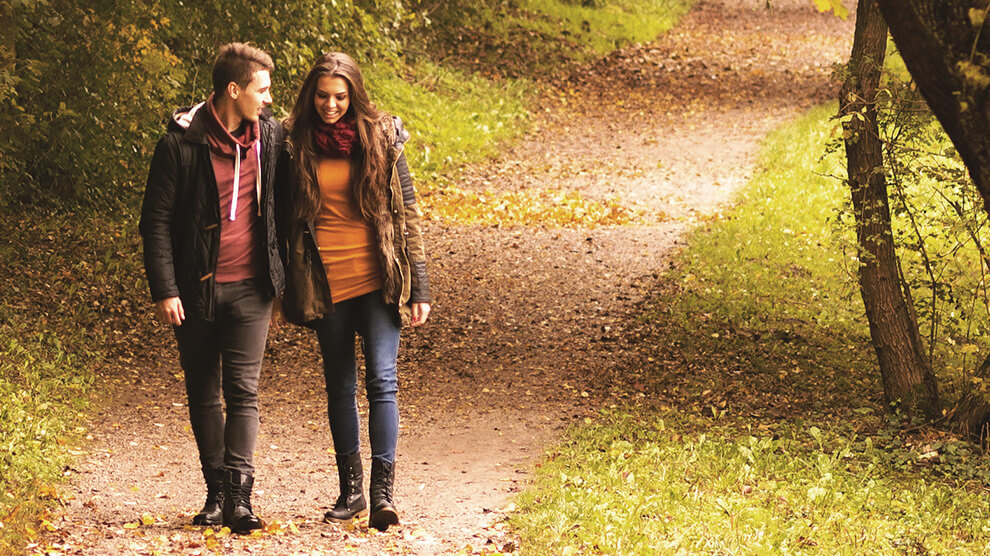 Whether they're working to become debt-free or just trying to be good stewards of God's resources, couples can have a hard time enjoying a night out together and stretching their dollars. They know the occasional "date night" is important, but they feel a little bit of guilt spending the extra cash.
But sticking to a budget doesn't have to mean skimping on the fun. Doubt that? Here are five great ways to treat your date for $5 or less.
1. Take a hike—in a park, that is.
Whether it's a local park or a state park, there's plenty you can do under the canopy of colorful leaves that will cost you little or nothing. Not the hiking type? Well, tweak it a little by riding bikes, taking a walk, or planning a picnic. Along with the great talks you can have, you also get a little exercise in the process. What could be better on an early autumn afternoon?
2. Bookstores, coffee and conversation.
Sure, the big bookstore chains can feel a little impersonal at times, but they're actually great places to connect as a couple. Most of them have in-house coffee shops where the two of you can talk over a cup of dark-roasted or pumpkin-flavored goodness on a cool, fall evening. And then there are the books—aisles and aisles of books! That's a date made in heaven for the literary types. Not an avid reader? Try looking through the children's section for books from your youth and exchange memories of bedtime stories and quirky childhood habits.
3. "Now Showing" at your house.
Movies nights are still big winners in the date department. You can pick a flick you've seen together a thousand times or find a new release at the local kiosk. Cuddling up with your date—and a little popcorn and some hot chocolate—is a memory just waiting to happen. Plus, it won't cost you nearly as much as a night at the local movie theater!
4. Thrift-store bonanza.
Let's be honest: You can find all kinds of cool stuff at a thrift store. Some of it's useful, and some of it's just plain fun. You can make a game of it by looking for the ugliest sweater possible, the most seasonal decorations or the strangest knick-knack. And if you've got a few white-elephant parties in your holiday future, now's the time to start looking for the perfect "gift."
5. Group scavenger hunt.
If you want to share the fun of a cheap date night, invite a few friends to join you in a citywide scavenger hunt. Create a list of obscure things to find or places to visit around your town. If you want to be extra festive, try incorporating a pumpkin patch or a corn maze into your search! Then, turn the groups loose with a camera or smart phone. Photographic evidence is a must—and the crazier the better! Meet back at your starting point for some big stories and even bigger laughs.
Of course, this just scratches the surface. We didn't even get to some honorable mentions like game nights with friends or strolls through a farmers market. The point is that you can find great ways to nurture your relationship without breaking the bank or sinking your cash flow plan.
All it takes is about $5—and a little creativity.