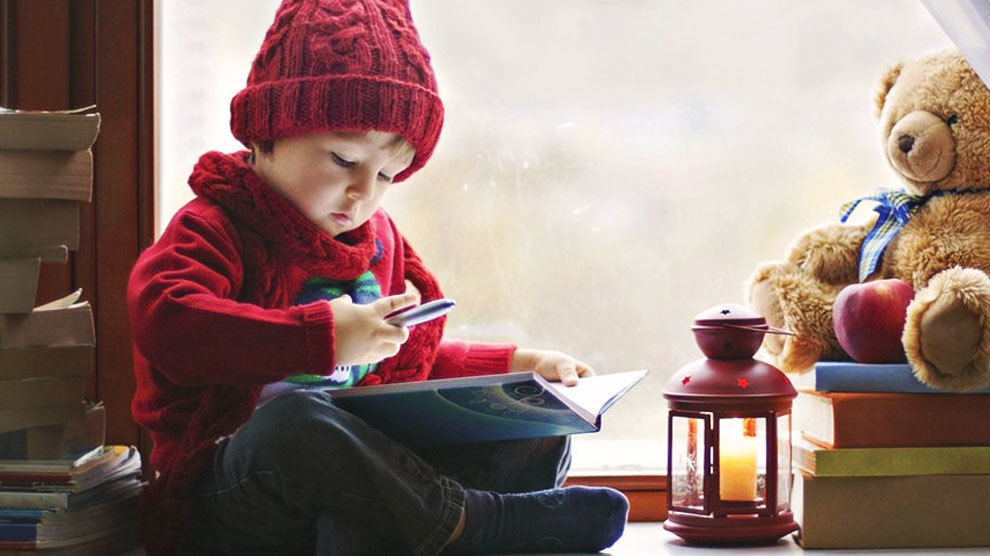 Christmas for parents is all about balancing the magic of the season with the reason for the season. We want our kids to laugh, have fun, and be in awe—but not just of Santa and the gifts he brings. Our ultimate hope is that our kids will revel in the wonder of that first Christmas even as they enjoy this one.
Enter the best Christmas stories around: our pick of the top 12 Christmas books you should read to your kids. These books range from silly to serious and serve as a great way to keep your kids entertained all day!
Related: Show Your Kids What Contentment and Gratitude Look Like this Christmas. Order Smart Money Smart Kids Now!
1. How the Grinch Stole Christmas!
This is the family-favorite story of a Grinch who stole Christmas, only to give it all back when he hears the joy-filled voices of the gift-empty town.
You'll love introducing your kids to this pre-Jim Carrey classic.
Your kids will love Dr. Suess! Sing-songy rhymes! And Little Cindy Lou Who!
Snippet of the story: Maybe Christmas, he thought, doesn't come from a store. Maybe Christmas, perhaps, means a little bit more!
2. The Best Christmas Pageant Ever
The Herdman kids sign up for the annual Christmas pageant and take all the best parts, even though they've never heard the Christmas story. What should be the worst Christmas pageant ever really does end up being the best.
You'll love how the book challenges kids to see others as Christ sees them.
Your kids will love the humor and edginess—a nice break from the normal Christmas story routine.
Snippet of the story: There [the Herdmans] sat, the closest thing to criminals that we knew about, and they were going to represent the best and most beautiful.
3. Merry Christmas, Mouse
Mouse decorates the Christmas tree with a fun counting game.
You'll love having a holiday-themed option for teaching your toddler to count.
Your kids will love counting along with Mouse from If You Give a Mouse a Cookie.
Snippet of the story: Mouse puts one star on the Christmas tree. He adds two angels, then three snowflakes . . .
4. The Polar Express
A young boy takes a ride on a train to the North Pole, where he receives a special gift from Santa that only kids can enjoy.
You'll love experiencing the magic of Christmas through the eyes of your child.
Your kids will love the sense of adventure reserved only for little ones.
Snippet of the story: Though I've grown old, the bell still rings for me, as it does for all who truly believe.
5. One Night in Bethlehem
While looking at a manger scene, a little boy wonders what he would have done if he'd been around when Jesus was born.
You'll love the sweet simplicity of the Gospel message for toddlers.
Your kids will love textured pages and easy rhymes.
Snippet of the story: If I had been a spotted cow and mooed so loud and clear, it would have echoed through the hills that Jesus Christ is here!
6. A Christmas Carol (young reader's edition)
Ebenezer Scrooge cares about money and money. Oh, also money. He's a miserable man who can't stand Christmas, until he gets a visit from three spirits who show him what really matters.
You'll love showing your kids how to go from "Bah Humbug" to "God bless us, everyone!"
Your kids will love the encouraging tale of Tiny Tim, a kid just like them who faces adversity with an awesome attitude.
Snippet of the story: Scrooge danced around the room. "I don't know what to do! I'm as light as a feather. I'm as happy as an angel. I feel like a schoolboy. A merry Christmas to everyone!"
7. Llama Llama Holiday Drama
Llama Llama is excited for Christmas until he gets overwhelmed by the chaos of the holiday season.
You'll love the reminder that people matter more than presents.
Your kids will love seeing Llama Llama have another silly fit.
Snippet of the story: Wishing, waiting, wanting things . . . we forget what this time brings. Gifts are nice, but there's another—the true gift is we have each other.
8. The Night Before Christmas
This is the time-honored poem about the anticipation of St. Nick's arrival.
You'll love the many versions available for you to choose from.
Your kids will love calling out reindeer names with Santa.
Snippet of the story: And then, in a twinkling, I heard on the roof the prancing and pawing of each little hoof. As I drew in my head, and was turning around, down the chimney St. Nicholas came with a bound.
9. Dream Snow
A farmer follows his normal daily routine of work followed by a nap where he dreams of snow. When he wakes up, he finds it wasn't just a dream! He hurries to give the town one more surprise.
You'll love Eric Carle's beautiful illustrations.
Your kids will love the snowy blanket that covers each page.
Snippet of the story: Quickly he put on his warm coat, his warm boots, his warm hat and his warm gloves. He grabbed a box, slung a sack over his shoulders and dashed outside.
10. Mr. Willowby's Christmas Tree
A special-ordered Christmas tree is delivered to Mr. Willowby's house, but it's way too tall. When he gives a portion of the top away, the giving keeps going.
You'll love the lesson that we can give when we have a lot and when we have only a little.
Your kids will love the wonder of the never-ending Christmas tree.
Snippet of the story: But once the tree stood in its place, Mr. Willowby made a terrible face. The tree touched the ceiling, then bent like a bow. "Oh, good heavens," he gasped. "Something must go!"
11. Morris's Disappearing Bag
Morris's older siblings are playing with each other's new toys on Christmas morning, but he's too little to use their stuff. Morris is sad . . . until he finds a gift that everyone else missed.
You'll love the reminder for kids that everyone just wants to be included.
Your kids will love Morris's facial expressions as he goes from sad to surprised to happy.
Snippet of the story: Suddenly, Morris noticed a package that had been overlooked. In it was a disappearing bag.
12. A Charlie Brown Christmas
Charlie Brown tries to feel better about Christmas by directing the annual Christmas play. When everything falls apart, he wonders if anyone really knows what Christmas is all about.
You'll love seeing Charlie Brown at his Charlie Browniest.
Your kids will love Linus, Lucy and the little tree.
Snippet of the story: "And suddenly, there was with the angel a multitude of the heavenly host, praising God and saying 'Glory to God in the highest, peace on Earth, and goodwill toward men.'"
Have a favorite we didn't mention? Tell us in the comments below!